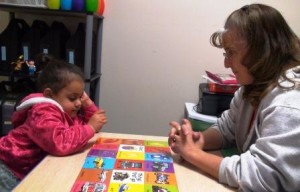 Jamie holds an Associate in Applied Science-Speech Language Pathology Assistant, and an Associate in General
Education from Fayetteville Technical Community College. A Bachelors of Arts Social Science-Education and a Masters of Business Administration-Healthcare from Ashford University in Clinton, Iowa. She is registered through the State of North Carolina Board of Examiners for Speech and Language Pathologists and Audiologists.
Jamie has been working in Fayetteville, NC since 2005, as a Speech Language Pathology Assistant, in a variety of clinical and contract settings. Jamie builds a strong personal relationship with each child and their family. Jamie believes strongly in Speech Therapy and family involvement as an early intervention. Jamie really enjoys working with school age children in order to help them succeed later in life.
Jamie is also a CBRS Therapist with the Infant, Toddler Program.
Jamie enjoys spending time with her family, reading, and preparing "dinner" for 16 every Sunday.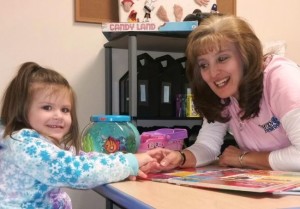 Jamie has recently attended the following CEU courses:
"THE WAY I SEE IT" by Dr. Temple Grandin
Dr. Temple Grandin has served as inspiration and role model to hundreds of thousands of families and persons with autism. In this unique presentation, Temple eloquently and candidly described the challenges she has faced and offers no-nonsense ideas on how others dealing with autism can meet these obstacles and improve the quality of their lives. Backed by her personal experience and evidence-based research, Temple shared her valuable insights on a wide variety of topics, and offers useful do's and don'ts.
By attending, we have learned to:
Modify the learning environment to accommodate sensory challenges
Recognize and accommodate neurological differences in home or classroom setting
Distinguish between voluntary behaviors and involuntary behaviors
Responsibly utilize alternative and/or conventional medicine
Assist individuals develop their talents into career path